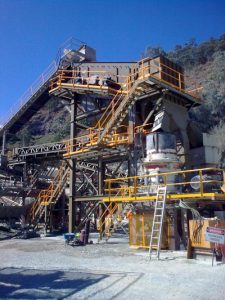 Hawk Machinery was established in Melbourne in the 1988 manufacturing and supplying crushing, screening, feeding and conveying equipment to the extractive industry together with plant layout and turn key projects.
Over this time we have built a reputation for providing "what the customer wants" with flexibility of design and manufacture to make a "modified standard product" made to suit the client's specific needs. This facility remains today and is a key to the Company's continuing success.
Our CAD designs cover – mobile, skid and fixed plants.
We have over 800 machines in use throughout Australia and the world of various sizes.
Countries include: Australia, Malaysia, South Africa, Argentina, Chile, New Zealand, China,Thailand,Burma, Singapore, Cambodia, Vietnam, Papua New Guinea, Indonesia, Hong Kong and Phillippines.
The HAWK range covers extra heavy and heavy duty equipment such as:
Inclined vibrating screens Mining and Quarry standard with grease lubricated or oil lubricated mechanism
Horizontal screens with twin shaft coupled with gears
De-watering screens
Vibrating grizzly feeders & ROM feeders with twin shafts
Vibrating feeders with out of balance motors
XHD scalping screens
HAWK equipment has been used by mining & quarrying companies throughout Asia and Australia over the past 25 years and continues today with a product range, refined over the years to make use of today's manufacturing processes to provide quality equipment in the most economical form. New products, manufactured wholly in Melbourne Australia are being added to the range to provide a wider scope for our customers needs.